Confectionary items hold a special place in our celebrations, it feels like a celebration is incomplete if there are no sweet delights in it. Among confectionary items, pastries have a different charm and are loved by every tongue and heart. A wide range of pastries is available at almost every other bakery. In such a case what can make your pastries different in the market? Of course a unique packaging. If you want your pastries to get attention then you must work on their stylish packaging and this stylish packaging comes using custom pastry boxes. Using this kind of packaging gives you more room for creating an impact on your product and helps make its worth in the market.
Offer Ultimate Protection from Damages:
Pastries are soft and delicate items and hence require special treatment to maintain their original position for a long time. For this purpose, you need to accompany your pastries with suitable packing which assists them in maintaining their freshness and looks. We suggest using custom boxes as they offer great help in providing the demanded protection and care to your pastries. They are usually made of a cardboard material that keeps the pastries safe from contamination by flies and other insects, moreover, cardboard material is denser and strong enough to not let the dirt particles penetrate inside the box. In this way, your pastries remain safe from being polluted.
Helping Resisting Weather Effects:
Weather is an important factor that needs to be kept in mind while you are dealing with pastries as they get affected by weather situations easily i.e. in extreme heat the cream and toppings get melt and therefore destroy the look of pastry and windy weather takes pastries' moisture off hence making them dry and rough. So, we recommend using custom boxes to pack your pastries because the cardboard material resists the weather conditions and saves your product from heat and dry weather.
Provide Stylish Look to Your Pastries:
The way you present your product tells a lot about your brand and its standard therefore you must present it elegantly to gain customer value. You must use unique and colorful designs to imprint on the packaging because it's the first thing on which the customer looks open when he enters the market. Using custom boxes can do this for you as they are flexible to imprint different designs exhibiting style and aesthetics. You can use any design and any color combination for it and easily get that imprinted on your product's packing. This will not only make your product alluring but will also boost up its sales.
Budget-Friendly Packaging:
As already said, the market has been revolutionized a lot and marketing strategies have also been modified. Now people are equally concerned about packaging along with the original product, therefore companies are spending a big amount on introducing innovative packing to their products but this is not feasible for everyone in the marketplace to invest big on packing only. In this case, we suggest custom packing because it is a relatively cheaper yet unique way of packaging. You can get a bulk of customized boxes while spending a very little budget and can enjoy effective marketing.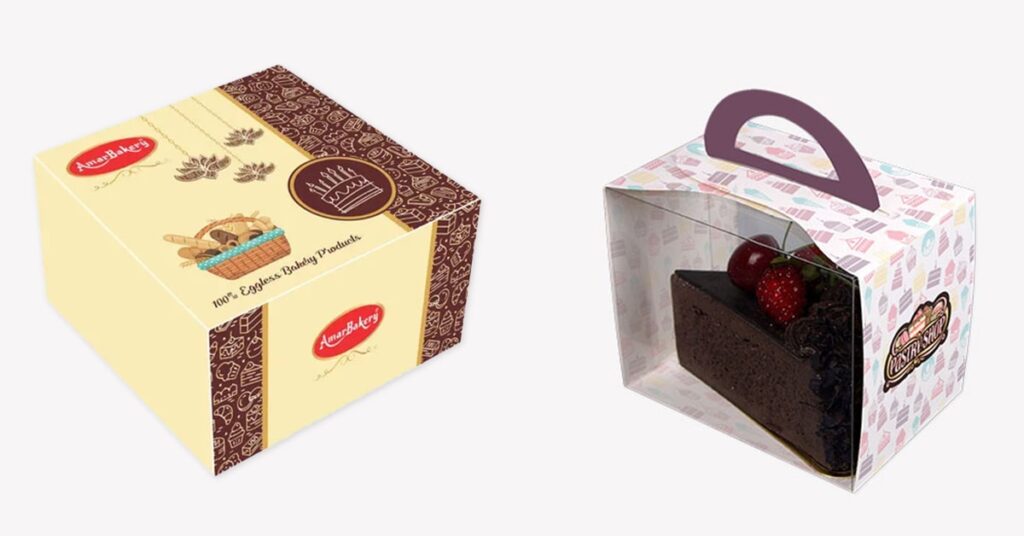 Offer a look at the product Before Purchasing:
When someone goes to the shop he wishes to have a look at the product before purchasing, especially in the case of food items. Using custom pastry boxes offers you this flexibility as you can have a decent window cut out on your pastry boxes that allows the customer to look into the pastries before he purchases them. It will help him to decide whether he needs the particular product or not.
Source of Information:
Everyone strives to have some information about the product that he is going to buy. Especially when it comes to food items people do wish to know about the manufacturing ingredients and nutrition value of the eatable. Therefore, as a producer, you need to mention details about the food item you are offering, on its packaging. We suggest using custom boxes, as they are flexible for providing the necessary detailing of your pastries that can help your customer in knowing about the product in a bit detail.
Perfect Option for Gifting:
Pastries can be a delightful treat to anyone. You can give this treat to your loved ones on their special days. For this gifting purpose, you have to look for elegant packaging as well. Custom printed boxes help you a lot in this case. You can imprint artistic designs and graphics according to your requirement and present them to the respective person. In this way, he will feel happy, and the joy will get double.
If you are looking for premium quality custom pastry boxes, feel free to reach us at bakery packaging boxes, and we will be there to serve you at our best at highly economical pricing. We will tailor your boxes exactly according to your requirement so that you can feel happy and satisfied receiving them.