Cake pops, as the name suggests are bite-sized cake bits styled as a lollipop.
A Revolutionary Dessert:
I call cake pops a revolutionary dessert. It changed the game for cake industry forever. It's twenty first century, pure chaos. With increase in obesity, number of health conscious people has increased too. Cakes are a comfort food for most of us but once you start eating, you can't stop before it's too late. No one wants to binge 3000 Kcals in one go. This is the reason most people avoid bringing cakes to their homes altogether.
Cake pops solve this issue. Its controlled portion size lets you eat the cake for comfort without binging on the extra calories.
A Must Have for Every Party:
When cake pops first came into the market, no one imagined that this dessert would soon become a must have for all parties and celebrations. Whether it's a wedding, birthday, baby shower, or a gender reveal party cake pops are there.
People place orders for Custom themed cake pops weeks before the events. There are minions themed cake pops, frozen themed cake pops, Disney themed cake pops, avengers themed cake pops, and the list goes on and on and on…
Vegan Cake Pops:
Cake pops have found their way into the vegans' hearts as well. Even they couldn't resist its charm but vegan cake pops are made with vegan butter and almond milk.
Custom Packaging for Cake Pops:
Most custom themed cake pop businesses are home owned and the orders are placed online and later shipped through a courier service. Cake pops are placed over a stick, just like lollipop, this makes them prone to breakage.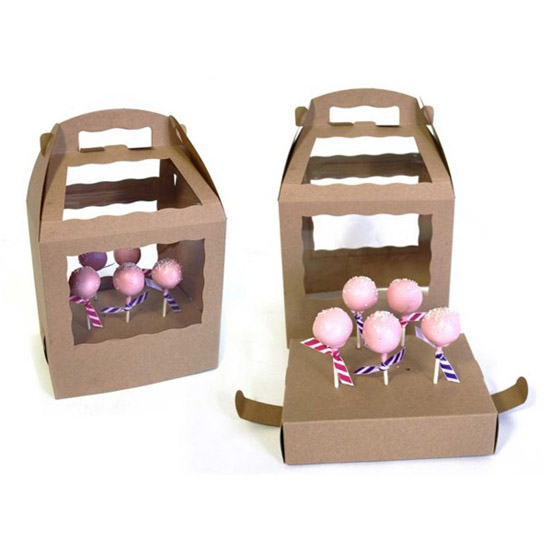 Just think for a moment, you got an order for mickey & Minnie themed cake pops. You fulfilled the order with exceptional precision and the cake pops look amazing. You shipped the order in a regular box. The next day you receive a complaint from the customer about broken cake pops and then they go ahead a leave you a bad review online. This is the biggest nightmare of an entrepreneur owning a bakery business.
This is why it is important to invest in proper packaging of cake pops before shipping the order.
Bags and wraps:
The first step in packaging a cake pop is bags and wraps. You can use:
Eco wraps
High clarity wraps
Heat sealable wraps, or
Paper bottom wraps
Décor:
Once you seal the wrap around the cake pop, you must hide the seal/knot. You can use:
Twist ties, or
Pre-tied bows
To attach at the knot or sealing point. This will not only hide the knots but make the packaging more attractive as well.
Let's get Inside the box:
Next step is choosing the right custom cake pop boxes to present and protect your cake pops. You can get custom boxes from any reliable packaging company at very economical rates. Just like Bakery Packaging boxes provide you with a wide range of styles and sizes to choose from.
Popular Box Styles for Cake Pops are:
Clear boxes
Boxes with die cut and window
Paper window boxes
Clear tubes boxes (are cylindrical in shape).
Closed lid boxes with graphics and designs
Solid colored boxes
Festive tins
Assortment boxes
Cake pop assortment boxes are getting more and more popular these days. You can get custom boxes that will make it 3x easy to assort the cake pops. These boxes come with corrugated trays at the bottom with holes to hold cake pop sticks.
Upside Down Assortment:
Upside down, cake pop assortment is another popular trend. In this style, the tray is fixed at the top instead of bottom. There are rubber stands to hold the cake pop sticks in place.
Boxes with Handle:
Boxes with a plastic or nylon ribbon to hold them with convenience are also a popular style for cake pop boxes.
Conclusion:
There are so many ways to display your art aka your confetti aka your cake pops assortment. You just have to find the right packaging company that can help you showcase your innovative dessert in an equally enticing box. Your art deserves to be appreciated and a box should never come in the way of your business's progress.