Setting up your bakery is not an easy task as you have a lot to consider from production to delivery to the customers. What most of the confectioners practice to keep their bakery products in the hotline of the market with the variety and rich taste. But, this fact can't be denied that today's customers don't rely only on the quality, variety and the taste. But they also look for how the products are presented to them. And, in such a situation, what can help you more effectively is the use of meticulously customized bakery packaging boxes. Either you are a newbie into the bakery business or already working in the domain they will help you raise your business to a different level of success.
What A Customized Bakery Packaging Offers?
Bring Festivity in the Display:
It is a natural fact that things with more colors and beauty attract eyes the most and the same is the case with your bakery products. Their sales are dependent on how festive look they exhibit. Now, the question is how to bring festivity to your bakery products? Well, the answer is in visually rich packaging because a product's box is the first thing with the customers come in interaction so it must be extraordinary in its appearance.
The custom bakery boxes can help you majorly in bringing a required festivity in the boxes. They allow you to incorporate different designs with bright colors detailing over the boxes. That majorly contribute to creating a splendid product look. Hence, your bakery items earn reputable sales as compared to the competitors.
Make You Stand Different from the Crowd:
Unlimited bakery brands are operating in the market these days therefore the completion is quite tough. The only thing that can save you as a newbie or an existing one here is being different from your competitors. And, for this purpose, nothing can help you better than the unique packaging of your product. All you need to do is a little research on what kind of packaging other bakers are offering to their products and then you can decide on a different one for yours.
You can take help from the customized bakery packaging boxes in this regard as they are flexible for printing and add-on customization of the boxes. You have the options for the style of the boxes, finishing, and illustrations. These things make your product attention-grabbing and help your bakery business to grow.
Sustain the Product Originality for the Long Term:
Cakes, muffins, pastries in fact all bakery products are sensitive and lose their originality even with little disturbance. So, careful handling is required for maintaining their look because nobody wants to have a destroyed product in his hands. And, for better protection of your bakery items, no other option is as effective as the use of custom cardboard boxes. The reason is cardboard material is sturdy in nature, therefore, bring firmness in the boxes.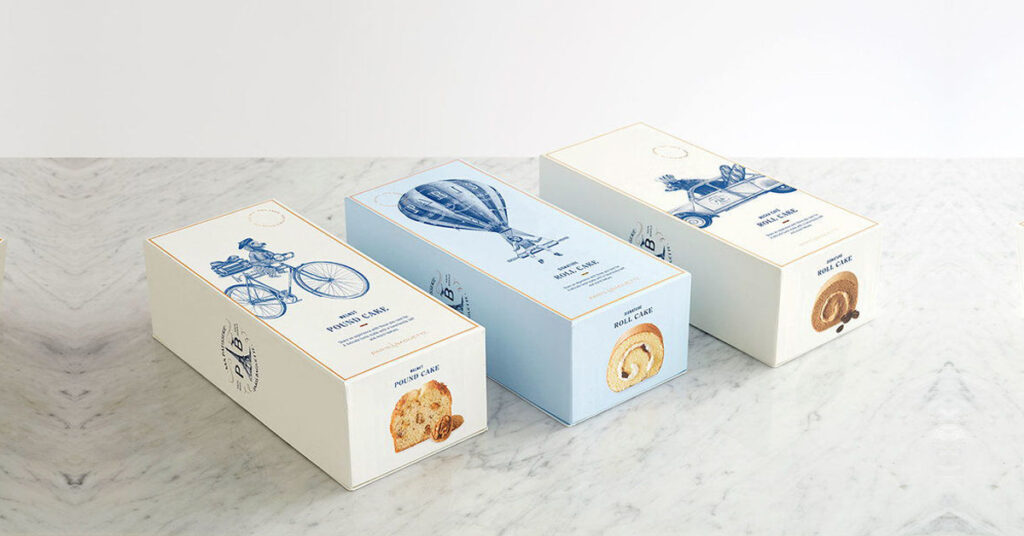 Further, it is easy to customize in different sixes ad shapes which give a perfect accommodation to the products due to which they don't dangle here and there in the box. This size perfection feature saves the products from damages. While increasing their shelf life that results in remarkable sales of the products later.
Allow a See-through Product Packaging:
When it comes to eatables like cakes pastries muffins or cookies, customers tend to have a pre-purchase look over the products. The reason is these items are commonly consumed on special occasions. Therefore they just want to make sure that the product they are adding to their cart is as same as the one displayed at the front. But most of the products come in sealed packaging which can't be opened before making a purchase. In such a scenario, what you can do for building the trust of your customers in your bakery items is the use of window packaging boxes.
These boxes allow a see-through of the product without breaking a seal via a window cut over it. This helps you in getting the customer satisfaction. Also, a chance to become their regular choice whenever they need a bakery product.
Support for Product Marketing:
For placing your bakery products at a higher rank in the market, effective branding is necessary. Different bakery owners use multiple tactics for the advertisement of their brands. But not all of them are affordable for every bakery owner. The only budget-effective yet an impactful strategy that is accessible for bakery businesses of all categories is the use of customized bakery packaging boxes. It is because these boxes allow to integrate style and aesthetics in packaging that attracts the customers' eye. And influence them to make a purchase even when they don't intend to.
Besides this, the natural material used in their manufacture makes them a cost-friendly option. That helps you to grow your bakery business rapidly among the masses with less investment.