Confectionery items are the must element of every celebration, friends get together or simple family sitting in the evening over the tea. They just add some more sweetness and a wave of happiness to life. Have you ever imagined what if you get your favorite bakery items cakes, macrons, cookies, donuts, or pastries in some well-designed and colorful boxes? Isn't it seems exciting? This is the reason why conventioneers are more focused on the unique packaging of their bakery items. If you are looking for ideas to bring your bakery items in the front, customized bakery boxes can help you majorly in this regard.
Marketing of the Brand:
The food market is experiencing a lot of changes with the advancement of time and the number of food brands is increasing rapidly. The competition has become tougher for all the existing and newcomers. All the bakery owners are therefore practicing multiple strategies to market their products among the masses. For example, electronic, social, or print media advertisement, flexes, and much more, but none of them is sustainable enough. The only thing that is promising for long-term marketing is the custom packaging boxes. It is because they allow you to be creative in terms of designing and styling the boxes that the latter becomes the reason for attracting more customers towards you. Hence your bakery items earn a better reach and retain more profit to you.
Offer Eco Flexible Packaging Solution:
Our earth is facing a lot of land and water pollution causing harm to plants animals and human lives and packaging is the major reason for this pollution. It is because the packaging becomes part of land and water once the product finishes and if it's of plastic and polythene it doesn't get disposed of without chemical treatment. That's why people prefer the brands that offer eco flexible packaging. If you are also wishing success for your cakes, macarons, and donuts shift to the customized bakery boxes. It is because they are made using biodegradable materials such as cardboard or corrugated cardboard. Besides this, these boxes are too easy to recycle as well. So, when you choose such boxes for the packaging it delivers the impression of care towards the environment. The customers value your brand and prefer your bakery products for satisfying their sweets' carvings.
Increase the Product Life:
All bakery items are sensitive enough to handle because of their creamy texture, therefore, require special care to maintain their originality. Here again, the custom cardboard boxes are majorly helpful. It is because cardboard material possesses sturdy nature that prevents your bakery items from wrecks and other damages. Furthermore, it also saves you products from the weather intensities like extreme heat or moisture. This way, your products remain fresh for the long term and the people prefer shopping from you. They also recommend your brand to their friends and fellows while making your confectionery items earn better sales revenue.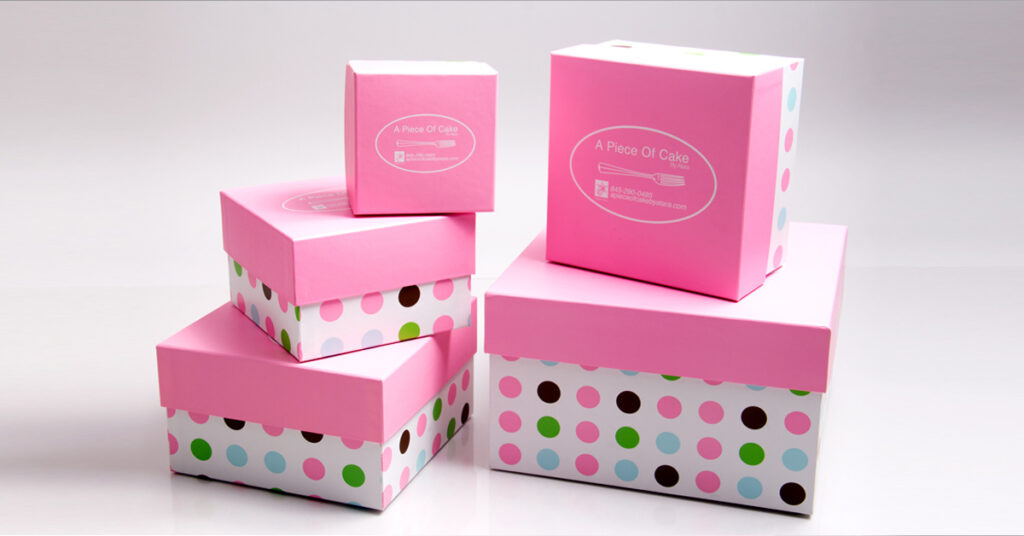 Makes You Stand Different:
As discussed earlier, the rush of the bakeries is increasing rapidly so it is important to make your products stand different for earning them customers value and high sales. You can take assistance from custom bakery boxes for this purpose as they allow you to be different from the others. For example, you can create a festive logo for your products as it's majorly responsible for building a brand's identity. You have a choice for the shape, color, designs, finishing, and embossing that majorly helps in creating a difference. When you imprint such a unique logo on your bakery product boxes, it becomes so easy for the customers to locate you. This way, your bakery items earn a better outreach, and your sales graph increases.
Best Option for Home Delivery:
Home delivery of food items is more in trend especially after the COVID 19 pandemic than traditional shopping. That's why major confectionery brands have started the home delivery service for their products. In such a case, the common problem that the majority of the bakery owners face is the safe delivery of the products to the customers. It is because nobody wants a deteriorated product in his hands after spending a handful of money. Using custom bakery packaging boxes is of great help here as they are made from hard cardboard material or corrugated ones. In this way, all your bakery products remain protected during the shipping and the customers receive them in their real form. Hence, your brand earns the customers' trust and becomes their first priority for buying their favorite bakery item.