Different and unique color combinations are attractive for all of us no matter with which age group or class we belong. They not only leave a strong aesthetic impact on our minds but also play an important role in transforming our mood.
So keeping under consideration such strong impact of colors, how about using them for marketing purposes? Wouldn't it be an effective marketing strategy? Of course, it will be, now you might think about how colors are going to impact marketing? So, the answer is here. As discussed earlier, that colors attract people of all ages, so if we incorporate beautiful color combinations in the packaging of products we are offering, it will attract the customer towards the product. It will surely play a major role in leaving a strong aesthetic impact on the customer's mind.
High-quality appearance counts the most when it comes to food items. People are very much conscious of their food choices and they don't make any compromise on the quality. In food items when it comes to confectioneries these expectations of a quality rise to a bit higher level. The reason behind this rise is, confectionery items are an important part of our celebrations and we feel our events incomplete without consuming sweets. Therefore we cannot afford any risk in terms of quality and presentation.
Macarons are one of the most consumed confectionery items. They are the yummiest delight for any celebration and people love to have them in their special events. So, if you are running a macaron business and are concerned about its maximum sale in the market you must think of making them eye-catching for the customers. Offering innovative packaging on your colorful macarons is responsible for gaining more customers for your product. Further, when it comes to innovative packaging custom printed macaron boxes play a vital role in it.
Thematic Customization:
People love to make memories therefore they organize events incorporating different themes. As discussed earlier macarons are a special delight in these celebrations. Therefore, as a manufacturer if you offer thematic packaging on your macarons, they will have more value in the market and customers will pay attention to your product.
On the other hand, if you are a buyer and you are planning a macaron treat for your guest at a party, you can get your customized macaron boxes prepared according to the theme of your party on order. For example, if you are celebrating the graduation of your son or daughter you can imprint relevant graphics on the macaron boxes.
Personalize Different Characters:
Macarons are most popular among kids, therefore you must produce colorful macarons with a packaging that is attractive for kids. Usually, kids are obsessed with cartoon characters and they demand cartoons imprinted on everything they buy or use. Therefore, as a seller, custom printed macaron boxes offer you the flexibility to personalize the famous cartoon characters on your macaron boxes in order to make them appealing for kids and hence persuading them to shop.
Variety in Shapes and Size:
Another charming factor in customized packaging is its availability in different shapes. You can go for the shape which you like or the one you think is the most demanded in the market. Moreover, you can also get customized boxes according to the requirement of your macarons i.e. the size in which the amount of macarons you are offering fits perfectly.
A loose packaging is of no use as it will destroy the elegance of the product and can also make it shapeless in appearance. As a result, your brand will lose its worth and the customer will not be attracted to the product.
Attract People from All Ages:
Macarons and donuts are the two confectionaries that are popular among people of all ages, therefore as a manufacturer of macarons you need to be focused on the demands of people from different age groups. Custom Printed Macaron Boxes facilitate you in the packaging of the products according to the choices of customers. You can select different patterns and designs matching the taste of people from different age groups and get them printed on your customized boxes. You can also incorporate appealing graphics in your packaging so that your products can gain more attention from the customer and convince them to buy from you.
Helps in Branding:
Branding is the most important factor for boosting up your business, particularly when you are running a confectionery business it is the key factor. Keeping in view the demand for confectionery items, a number of manufactures are operating in the domain, so you need to make some extra efforts for ranking your brand at a certain position in such tough competition. Customized macaron boxes are of great help in this case as they offer you versatile designs, logos and graphics to be imprinted on them. These designs and logos are highly responsible for advertising your brand efficiently in the market and help the customer to engage with your product. Premium logos imprinted on your packaging boxes assist customers to memorize your brand so that they consider buying from you for their next use.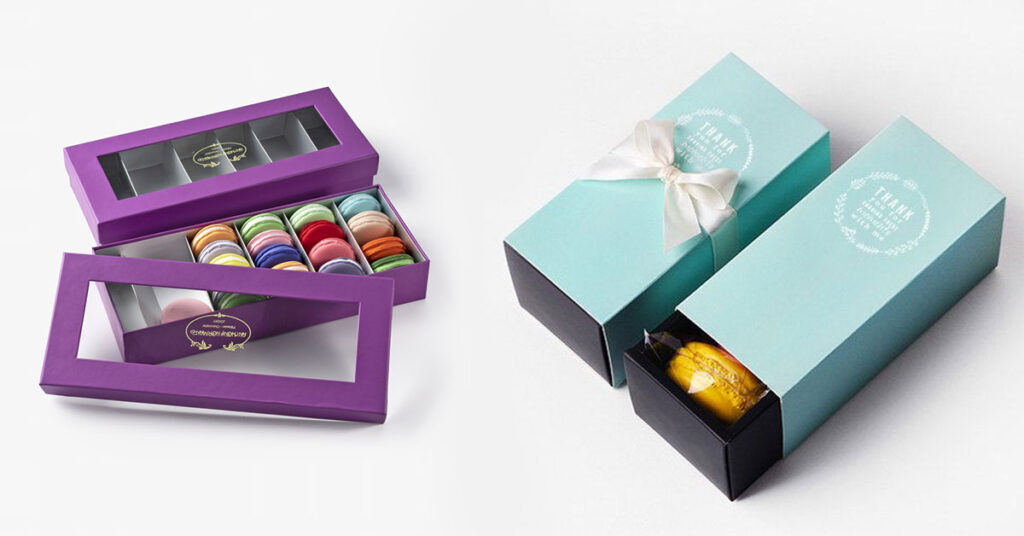 Source of Information:
People look for a piece of information before buying a product i.e. about product manufacture and benefits of using your particular product. Therefore, as a manufacturer, you must give the necessary information about your product in its packaging box. This will help the customer to know about what's inside the box and makes it easy for him to decide whether it's the product for which he was looking for. Other than this, you can also add about nutritional facts of your macarons to increase customer's knowledge and to make your product worth buying in his eye.
Considering these factors you must incorporate custom printed macaron boxes in the packaging of your macarons for making them worth buying. Moreover, use of these boxes for packaging minimize you packaging cost because they are manufactured using material which is relatively cheaper in price. In addition to it, using customized packaging assist you to reach your desired profit for your confectionery business.